Dr. Dale Figtree has been a Nutritional Health Practitioner for over 30 years and an artist since childhood. She has a private Nutritional Consulting Practice in Santa Barbara, California, and taught The Basics of Nutrition for several years at the Santa Barbara College of Oriental Medicine.
Dr. Figtree presents nutritional seminars throughout the United States and Europe, and is the author of four books, Eat Smart, Feel Great; Beyond Cancer Treatment –Clearing and Healing the Underlying Causes; Delicious, Nutritious and Simple - Super High-Nutrient Recipes for Health and Healing; The Gifting of Dreams: A Journey Through Serious Illness, Revelatory Dreams, And Deep Healing, plus the video, The Joy of Nutrition.
Over the years, Dr. Figtree has developed an approach to health called the Figtree Protocols – comprised of personalized, high-nutrient food programs designed to supply large amounts of balanced nutrients. The goal is to ensure that abundant raw materials are continuously available, both for daily maintenance and also for deep reparative work. This supports the body's innate ability to cleanse, regenerate and self-heal, something that is possible to a much greater degree than most people realize.
Dr. Figtree has found that the consumption of large amounts of wholesome foods creates a satisfied full feeling in the deepest sense, as the body's cells become well fed with necessary nutrients. At the same time, the abundance of nutrients stimulates the metabolism to operate at a higher rate supporting the body to cleanse toxicity and excess - excess weight, excess waste, and excess irritants that often are the basis of degenerative disease.
Learn more from these valuable and illuminating interviews with Dale Figtree and Chris Wark of ChrisBeatCancer.com :
A word from Dr Figtree:
The Figtree Protocols are based on a wise and effective healing protocol I was fortunate to connect with over 40 years ago. At the time I had been diagnosed with lymphatic cancer and followed the conventional medical route - surgery, chemotherapy and radiation.
I was discharged after six months with a 'guarded prognosis' having exhausted all known treatment available at that time.
The reins were placed back in my own hands, which, after the initial shock, proved to be a powerful wake-up call. I felt I had no choice but to face this challenge full force and become deeply involved in my own healing process, with the great hope of finding ways to restore my health and save my life.
In my search I found several promising modalities. The principle one involved nutrition, and I worked with a gifted naturopathic doctor who advised me on a powerful food program. I also engaged visualization, yoga, and other supportive therapies, all of which, I committed myself to wholeheartedly.
During this process I went through many in-depth detoxification and cleansing episodes. Woven in-between were gifts of rich insights and deep appreciations for the healing changes that were occurring in my body on many levels. After three years, I went back to my oncologist and did follow up testing of blood, bone marrow, and a CT scan. When the results came in, much to my doctor's surprise, I was declared cancer free.
Once I was well, I began to share my experience with others, especially in regard to nutrition. I wrote an account of my healing process and food program, which can be found in my first book Beyond Cancer Treatment – Clearing and Healing the Underlying Causes (originally called Health After Cancer). I recognized a great need for this information, and for encouraging people to become fully involved in their own healing processes on every level during a health crisis.
Eventually, I went to the American Holistic College of Nutrition, and became a Nutritional Health Practitioner. Throughout the years, in my practice, I have witnessed a wide variety of health challenges responding to the same basic nutritional support that had so profoundly affected my health.
After a few years of practice, I realized that, if children could be taught this commonsense approach to supporting their well being before poor food habits become too deeply ingrained, they could avoid the degenerative conditions that increasingly plague our society.
Indeed, by helping children become well nourished, and teaching them healthy habits and attitudes, it becomes possible to avoid obesity, diabetes, digestive problems, asthma, allergies, heart disease, arthritis, and even cancer. Out of this hope, my second book, Eat Smart, Feel Great took root - a story that is fun while at the same time filled with relevant nutritional information - plus yummy recipes - for kids, teens and the whole family.
After many requests from my clients, my third book emerged - a cookbook that incorporates the delicious, high-nutrient, easy-to-make recipes that fit into the health-supporting food programs that I strongly advocate. It is called, Delicious, Nutritious and Simple - Super High-Nutrient Recipes for Health and Healing.
This book is not just about flavorful simple recipes - it is so much more! It's about preparing foods that not only taste good but that do good; that feed our bodies, our cells, our health, our healing, our wellness, and our wholeness. It's about food that is intertwined with wisdom, with common sense, and ultimately with love.
Books
Delicious, Nutritious and Simple - Super High-Nutrient Recipes for Health and Healing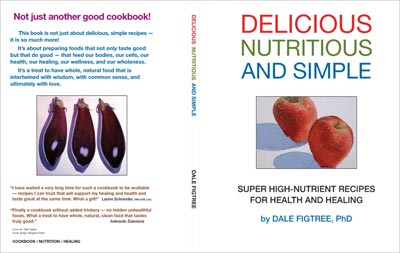 Beyond Cancer Treatment – Clearing and Healing the Underlying Causes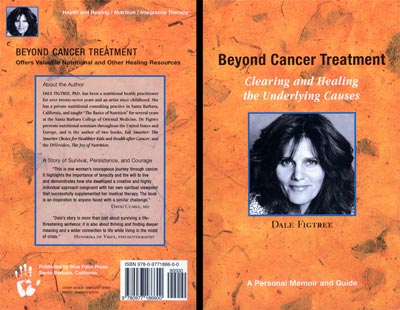 Eat Smart, Feel Great: Fun & Informative, For Kids, Teens & the Whole Family Plus Yummy Recipes & Great Nutritional Tips!
The Gifting of Dreams: A Journey Through Serious Illness, Revelatory Dreams, And Deep Healing
DVD
The Joy of Nutrition - An Optimum Nutrient Food Program for Balance, Regeneration and Ideal Weight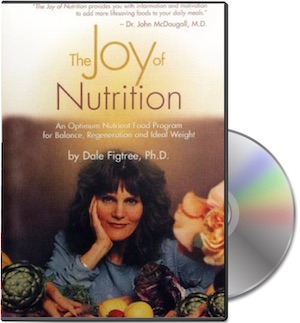 In addition to my books, I have created a 60-minute video/DVD, The Joy of Nutrition. In this video, I teach a hands-on, informative approach to understanding the basic food plans I work with. I show how to shop for the best quality foods, and I offer insights into the special nutrients that many foods of these contain.
Please feel free to email me if you are interested in asking nutritional questions, inquiring about nutritional telephone or skype consultations, my lectures, my books, or my video.
May this information be of benefit to your health and happiness.